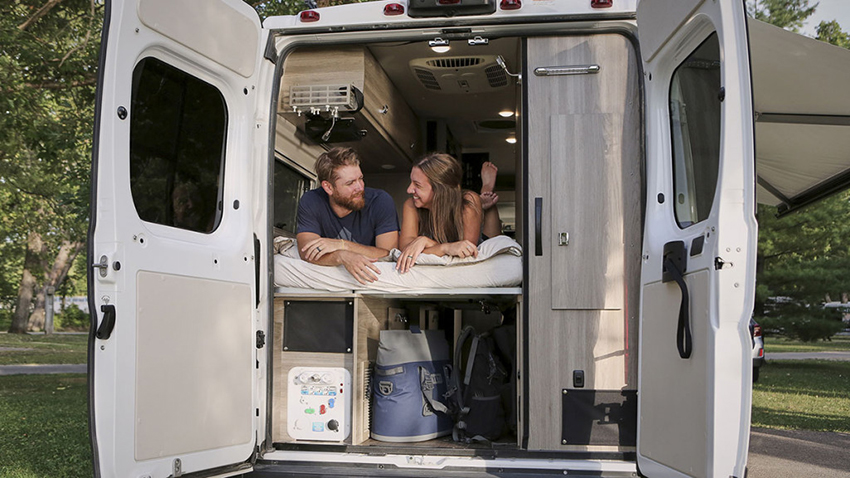 Winnebago Travato Product Information
Winnebago Travato Questions?
Class B Camper Vans with Awnings
An awning is a great way to expand your living space outdoors when you have made it to your campsite. Awnings also provide much needed shade and shelter for sitting, cooking, or just relaxing outside your motorhome. Awnings are convenient in smaller motorhomes like Class B Camper Vans where space is already limited and space-saving solutions are a necessity.
Continue reading to learn about the Winnebago Class B Camper Vans that include awnings as a standard feature.
Winnebago Boldt
The Winnebago Boldt, class B diesel motorhome, is perfect for the outdoor enthusiast looking for adventure. This energy and fuel-efficient, diesel-powered Camper Van is equipped with ample storage and spacious floorplans, making it the perfect blend of innovation and comfort. The Winnebago Boldt motorhome is also built for all-seasons with its state-of-the-art insulation, in-coach water lines, and Truma Combi Eco Plus Heating System. Built on the Mercedes Benz VS30 diesel chassis the Boldt is a leader in innovation with its partnership with the Pure3 Volta Power Lithium Energy System providing a generator free "stealth-like" experience.
The Winnebago Boldt is available in 2 floorplans, the Winnebago Boldt 70KL and the Winnebago Boldt 70BL. Each floorplan is available with optional 4WD. The powered awning on the Winnebago Boldt measures 13′ and includes LED lighting.
View Our Current Winnebago Boldt Inventory
Winnebago Era
The Winnebago Era, a Class B diesel motorhome, is designed to be reliable and powerful with on or off-road capabilities and premium interior styling. The Winnebago Era motorhome is also built for all-seasons allowing you to enjoy your Era throughout the year, regardless of the temperature. Built on the Mercedes Benz VS30 diesel chassis, the Era has interior aesthetic upgrades similar to what is in the Mercedes S Class luxury auto.
The all-season Winnebago Era is available in 3 floorplans, the Winnebago Era 70A, the Winnebago Era 70B and the Winnebago Era 70X each available with option of 4WD. The Era includes a powered patio awning that measures 16′ and includes LED lighting.
View Our Current Winnebago Era Inventory
Winnebago Revel
The Winnebago Revel entered the Class B Campervan market and took it by storm with its flexible floorplan, on-demand 4-Wheel Drive and 4-Season usability. The Winnebago Revel is built on the proven and reliable Mercedes Benz Sprinter Diesel Chassis. This off-road capable camper van is loaded with user friendly innovations giving the outdoor enthusiast a breadth of choices when using the van.
Inside, the Revel's unique features start with a floorplan designed around a Power Lift Bed with gear garage below. This allows for a 49" x 79" cross coach sleeping area.  A full galley, including a large refrigerator, makes meal prep a breeze, while the all in one bath and gear closet boasts a cassette style toilet that eliminates the need for a separate black water holding tank. The true 4×4 Winnebago Revel opens up a world of possibilities with off-grid capabilities and complete four-season comfort.
The Winnebago Revel comes in the 44E floorplan and includes a powered patio awning measuring at 9'6″ and includes LED lighting and Bluetooth control.
View Our Current Winnebago Revel Inventory
Winnebago Travato
The Winnebago Travato is recognized as the top-selling Class B Camper Van in North America for a multitude of reasons. Built on the efficient and maneuverable RAM ProMaster chassis, the Travato is compact, measuring just 21′ in length, while still providing all of the comforts and amenities of home.
Enhanced safety and security features in the RAM ProMaster chassis include a digital rearview mirror, blind spot monitoring, and crosswind assist. With its 136-inch wheelbase, this chassis makes the Travato a perfect daily driver, giving you the freedom to navigate city streets or narrow RV park roads with ease. Another key innovation in the Travato includes the dinette with automotive grade seating, adjustable and movable table, as well as 3-point seat belts in the 59G and 59GL floorplans.
The Winnebago Travato is available in 2 floorplans, the Winnebago Travato 59G and Winnebago Travato 59K. Each of these floorplans is available with Lithium Power becoming the Winnebago Travato 59GL and Winnebago Travato 59KL floorplans, the "L" denoting Lithium. The Travato includes a 13′ powered awning that also features LED lighting and Bluetooth control.
View Our Current Winnebago Travato Inventory
To find out more about Winnebago Class B motorhomes with awnings, contact a factory-trained Lichtsinn RV Sales Consultant!
Find Winnebago Travatos for Sale, HD video and more information at LichtsinnRV.com